Visualize Before You Buy How to Choose the Right Tile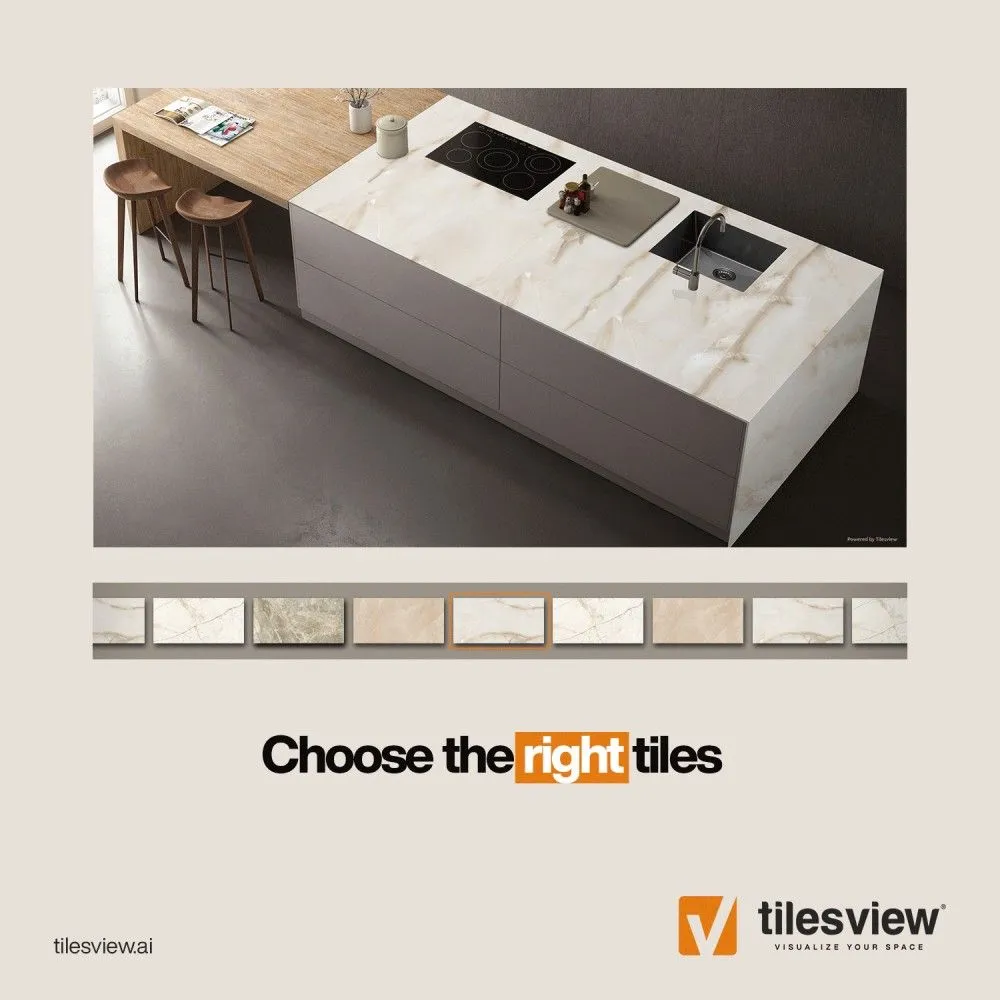 Have you ever felt stuck and confused while choosing the right tile shade for your walls or floors? Well, that has happened to all of us at some point in time. Home renovation is a pretty challenging task, but things become very easy when technology stands by your side and helps you out.
How cool can it be to experiment with numerous tile shades and designs visually, even before taking on any tile constitution task in real life? Sounds like an amazing Sci-fi thing, right?
Well, it's 2023, and home renovation is easier than ever, thanks to tile visualization technology.
Whether it's about renovating your kitchen, bathroom, or any other space, decision-making is going to be easy for you by using a tile shade visualizer.
But what exactly does this app do?
With this app, it's possible to preview your tile selection in a virtual room. So you can explore various site combinations, patterns, designs, etc. You'll get a sharp idea of how your space will look and feel after installing the tiles that you've selected.
TILESVIEW recommends you choose a tile shade with a visualizer app today, and your next renovation project is going to be really fun!
CHOOSE YOUR TILE SHADE WITH VISUALIZER
What do you mean by a Visualizer App?
A visualizer app, which we often refer to as visualization software or a visualizer tool, is a specially crafted computer program. It serves the main purpose of helping you to visualize what materials, designs, objects, etc., look like in the real world without needing you to make any real-life changes. Interior designers, architects, and home renovators actually adore this tool because of its high usability.
A visualizer app's ideas offer a user-friendly interface and allow you to upload an image of your room. Users find it convenient to check on various colors, textures, and materials and figure out how they'd look in their space. They can easily experiment with different design options in a virtual environment, and that's a great money-saving technique.
Adding or changing different elements like flooring, walls, furniture, and lighting becomes effortless. This tool offers a quick way to cherish how your design ideas would look in real life and make vital decisions before buying a thing!
Types of Visualizer Apps
You can find various visualizer apps out there, and each offers a special set of features and functionalities. We've listed some of the best visualizer app ideas that make transforming your home an easy task:
With a few visualizer apps, you can check tile shades in real time as if they are already installed in your home. Hence, you get a pretty realistic idea of how your chosen tiles will look like and help solidify decision-making.
Some visualizer apps are made in different ways. They use augmented reality technology to help you preview tile shades in your home. You can simply point your phone camera at the wall or floor where you plan to install your chosen tiles. Next, the app shows you a clear virtual image of the visual of those tiles in that space.
A few visualizer app ideas offer you preselected room templates, and using such visualizers is very easy. You just need to select the room you want to install tiles on, and the app shows you various tile shades to choose from.
Visualizer apps allow users to create customized rooms for those who desire a more personalized experience.
Just upload a photo of your home and start experimenting with various tile shades to check out how exactly they appear in your space.
Choose the best Visualizer App
Taking over flooring projects, interior designing tasks, and renovations can be very challenging, but a visualizer app can dilute the toughness to a great extent. Here is what a top-performing visualizer app does for you:
A perfect fit tile visualization app helps you create and check out not just the floor plans but even helps you figure out how furniture will look exactly in your rooms.
Some top-performing tile visualizer apps offer you advanced tools for creating 2D and 3D design plans which work with floors, elevations, cross sections, outdoor spaces, etc.
A pro-level visualizer proves to be a great help for tasks related to culture, interior design, and various types of construction. There are several powerful features for creating awesome-looking 3D models. You can freely add textures and furniture with such features.
A good quality tool will allow you to create floor plans and visualize different design options. You generally get an easy drag-and-drop interface which adds ease to tasks like ding furniture, walls, and flooring.
You can simply take photos of your space. And create your own floor plans and interior design plans.
So, you can expect these features from the top-notch visualizers available out there. You can conveniently pick the perfect tile shade using the best tile visualizer app. When choosing such an app, do consider your needs and design preferences. Also, keep in mind the level of accuracy and detail you need in your virtual room simulation app.
Benefits of Visualizer Apps
No guesswork anymore!
You actually eliminate all guesswork from your tile selection process by using a tile visualizer app. It's entirely possible for you to preview various tile shades in your home, and believe us, you'll definitely love your decision-making for a long time!
Easy-to-understand data
Users can represent data in an intuitive and easily understandable way by using Visualizer apps. They transform large and complex datasets effortlessly into visually appealing charts, maps, graphs, and various forms and sorts of visual representations, which is a joy to experiment with.
Recognizing trends, patterns, and insights becomes too easy
It isn't tough for the users to recognize trends, patterns, and insights by representing data visually, which otherwise would be challenging to uncover via traditional data analysis methods. Now, as users adopt data-driven insights, the decision-making doesn't just become easy but accurate too.
Great communication among team members
Visualizer apps play a huge role in facilitating communication among team members, letting them be the architects, stakeholders, interior designers, project managers, and clients. The reason? A visualizer offers a shared platform for perfect visualization and data analysis. So, the communication is always smooth as butter while clients use a visualizer app to choose the perfect tiles, shades, and patterns.
A wide audience enjoys access to data
A wide audience enjoys access to data analysis and visualization because of visualizer apps. Things get easy for you even if you aren't technically smart. You enjoy user-friendly interfaces, and many apps offer drag-and-drop features. Using these amazing features, you can create and share visualizations effortlessly with whomever you want.
Real-time data updates
Some high-end visualizer apps also offer real-time data updates. So, you're able to analyze and monitor data in almost real-time. Now, this feature is going to be highly helpful to you, especially if you are part of dynamic industries such as logistics, e-commerce, etc.
Easy on your pocket
Traditional data analysis and visualization solutions can be pretty expensive sometimes, but Visualizer apps are very easy on your pockets. No installation of any technology is needed. These apps are just ready to use once you install them. You just need an internet connection to enjoy using such apps on any device you want.
The market size of the Visualizer App
Especially in recent times, there's been a significant hike in the number of visualizer apps as well as the users of these apps. We can expect bigger hikes in the upcoming years in these numbers.
Now, what's the reason behind this tremendous growth in the popularity of these apps?
It's all because of the level of ease these visualizer apps take to all people in the supply chain of not just tiles but many other materials of interview decor.
As this is a cost-effective solution to use such apps, individuals and organizations are getting more and more dependent on analyzing and visualizing their data. We can thank cloud computing for making it cost-effective for organizations to access and use visualizer apps, and we can expect even better levels and conversion of these visualization apps in the future.