Unique Flooring Designs with Tile Visualizer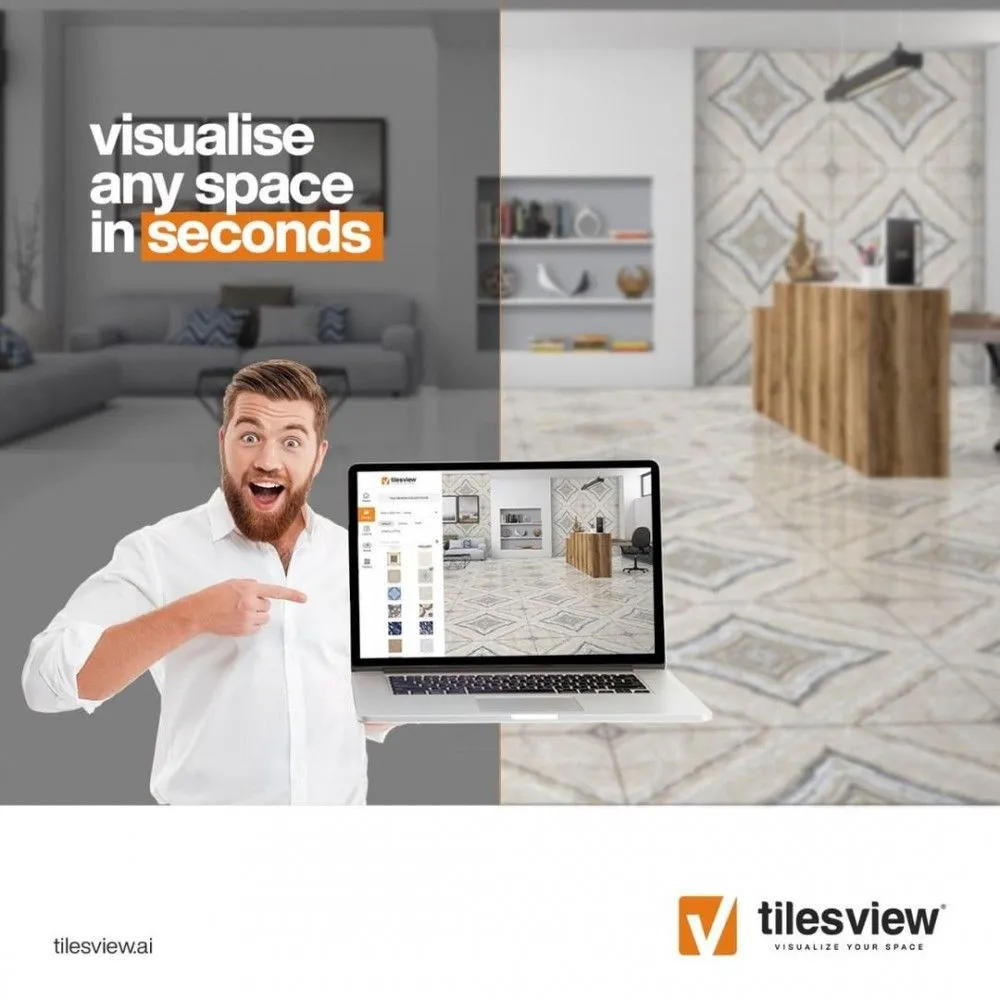 All of us want our spaces to look as interesting and alluring as possible. Flooring is a crucial element because it's not tough to imagine the impact of flooring on the overall looks of our spaces. If you choose the right type of flooring, you can add stars to the looks of your space.
But how would you figure out what sort of flooring fits your space well before installing it? Is that even possible? Fortunately, yes! It's your time to check out the floor tile visualizer from TILESVIEW.
It helps you visualize various designs and patterns, making the selection process much more manageable. We're writing this blog to explain to you the benefits of tile visualizers and how they can help you add extra charm to your living space.
Floor Tile Visualizer: An Overview
A visualizer is a special tool that allows you to see how different tiles will look in your space before you buy a thing. The makers use special augmented reality technology to give every potential tile buyer a realistic type of view of their space with their chosen flooring without installing it.
TRANSFORM FLOORING WITH TILESVIEW
So, it makes it an open ground for testing out various colors, patterns, and styles of tiles and figuring out what actually suits the best.
Selecting the Right Tile Visualizer
You may come across various types of tile visualizers, but we recommend you choose one that isn't just user-friendly but also offers high-quality visualizations.
At TILESVIEW, you can expect a user-friendly tile visualizer in India that allows you to select from various tiles and closely check how they would look in your space.
This specially crafted tool uses 3D technology that offers high-quality visuals. So, you can check various types of tiles and see how they will look in your home. Also, this tool has more features than competing tools.
Experimenting with Different Tile Designs
After selecting the perfect visualizer, now comes the time you can unleash yourself to check various tile designs. All you need to do is select a tile that catches your eye and try different patterns and colors.
This tool will allow you to create unique designs by mixing and matching different tile patterns and colors. Finding the perfect fit will be much easier than you can think!
Benefits of Using a Tile Visualizer for Flooring Design
Here are some astonishing benefits for you:
Customization: By using a floor tile visualizer, you can customize your flooring design to suit your requirements. You Can choose from the perfect tile size and color to unique patterns and textures. So, you can make creating a one-of-a-kind look for their floors entirely possible.
Time-saving: You don't need to invest hours browsing through tile samples and making trips to the hardware store. Instead, a tiles visualizer can highly help you to pinpoint a handful of the best choices and visualize your design in no time.
Cost-effective: This is again a big advantage. You don't need to shed money for trying out and experimenting with different design options and materials before making a final decision.
Unique Flooring Designs with Tile Visualizers
With the help of TILESVIEW's floor tile visualizer, it's possible for you to create a wide range of unique flooring designs. These examples will certainly thrill you:
Geometric Patterns: You can create unique geometric patterns for your floors using tiles of different shapes and sizes. No matter if you're thinking of simple herringbone designs or something like intricate chevron patterns, a tile visualizer in India can help you create a modern look.
Colorful Mosaics: Do you want a bold and bright look? Feel free to create mosaics using a variety of tile colors and shapes. With a tile visualizer, you can effortlessly experiment with various color combinations and layouts, whether creating a vibrant entryway or a bright and cheerful kitchen backsplash.
Wood-look Tiles: If you're wondering whether you can create tiles that mimic the look and feel of natural wood, then let us tell you, it's entirely possible. Thanks to the advances in tile technology. Feel free to experiment with different wood-look tile options. And create a warm and inviting look for your floor, and get appreciated by your fellows.
Unique Borders: You can create irregular borders for your floors by using tiles of different sizes and colors. You can start by creating a simple border around a room and then try a more intricate design from us. You'll certainly enjoy experimenting with different tile combinations.
Tile Visualizer in India
Today, architects, interior designers, and homeowners in India have started adopting technology such as visualizers to visualize how different tiles will look in your space without physically installing them.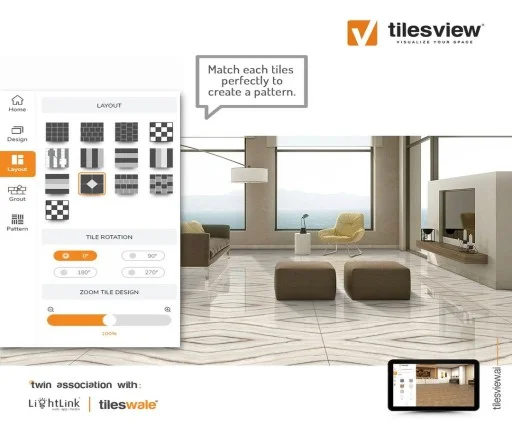 It's a great advancement that leads to perfection. Experimenting with varying tile options has become easier than ever! We can also expect some advancements in the upcoming time in this visualization technology.
Floor Tile Visualizer
The main purpose of a tile visualizer is to help you visualize how different tiles will look on your floor. By using one, it's possible to select from various tile options, including ceramic, porcelain, marble, and more, and see how they will look on your floor.
Experimenting with different colors, patterns, and layouts is great fun, and choosing the right type of flooring will no longer be a matter of confusion for you.
Unique Flooring Designs
Thinking of a unique flooring design out of the blue is very tough. What's in dreaming? We can dream of whatever we want, isn't it? But the thing that matters is how close our dreams are to reality.
The sort of flooring you're thinking of in your mind, is that even possible in real life? And if yes, then are you sure it won't be a blunder? Are you sure a better idea doesn't exist? You can kill all these confusions by using a tile visualizer, actually!
In The End
Now, when a tool is already solving so many confusions for you, that too without charging a penny from you, you shouldn't step back from trying it out. Who knows, you end up finding a perfect tile design for your flooring. And give your home flooring a feel you never thought of?