Tilesview The User-Friendly Visualizing Tool for Tile Websites
It is true that you are about to spend quite some money on new tiles for your residential or commercial spaces. Unless you are sure how they are going to look in your setting, how can you possibly invest a lot of money in it? That's when Tilesview comes to the rescue. Often recommended as one user-friendly visualizing tool, the main goal of this technological advancement is to help you get a blueprint of what the tiles will look like in your setting, even before you purchase it.
This tool is for tile websites only. All you have to do is use it and then place the tile you are planning to purchase. You will get a complete visualization of your room with the tiles placed there. If you like what you see, move on with your choice, or you can opt for some other options from the tile manufacturing houses.
Get the chance to imagine the reality with User-Friendly Visualizing Tool
Thanks to Tilesview, now you are able to imagine what your room will look like with the tiles on, even before you go ahead and make a purchase. It helps you to be 100% sure of the purchase before you actually make it.
The digital pre-loaded rooms are now available just a click away!
These rooms are available for your chosen beautiful tiles to make an exclusive impact.
You can try out the free trial now and then experience the benefits it comes with.
You can view our demo to see what this tool is all about and how easily you can use it on your behalf.
TRY TILES VISUALIZER FOR 7 DAYS FREE
More about Tilesview: The User-Friendly Visualizing Tool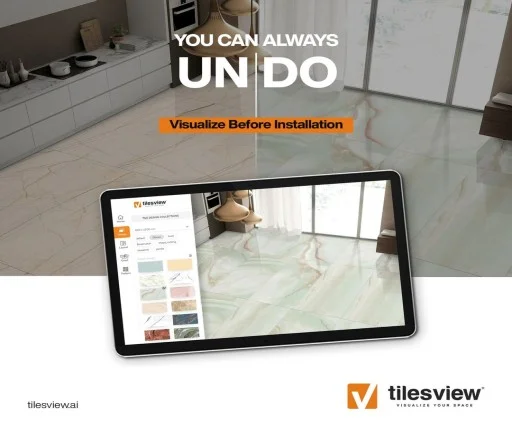 Before you jump straight into Tilesview, it is mandatory to learn more about this AI tool. It is a new, simple, and smart way to visualize tiles so that you won't make a mistake by choosing anything else.
Tilesview is a new, smart, and simple way to visualize tiles, from any manufacturing hub or unit.
It is considered to be the most innovative tile visualizer application in the entire world.
This AI tool helps in bringing your ideas for tiling your floors and walls to an amazing reality.
Even before you end up making a purchase, you can get a clear-cut vision of what the tiles will look like, thanks to Tilesview.
The advanced features:
From the points mentioned above, you can easily understand the value of Tilesview and would like to invest in one. But, before you do that, we have chalked out some of the advanced features to check before making a final decision.
Branding help is one point to address. Now, all tile manufacturing companies can use their company's logo while creating or making room previews.
Web integration is another one of the advanced features you can get from Tilesview. It is easy and also hassle-free to add Tilesview to your web. You can easily upload tiles in Tilesview. Our system is secure and will help you easily upload your tile designs.
Check out more on the layout and patterns through our AI tool. With our tool, you can easily blend two or even more tiles to help create a preview for your potential customers.
Our Tilesview will help you with the reflection. Through this user-friendly visualizing tool, your customers can view the glossy tiles along with the matte-finished ones in their room preview, to help mark the difference.
Share and save is another interesting feature of Tilesview. Now, tile manufacturing companies have the chance to save room previews made as PDF or image files. Then they can share the same on multiple social platforms.
Make sure to focus on the catalog now. With Tilesview, the tile manufacturers get the chance to create a tile catalog with a preview. It helps customers to get an exact detail of the final product.
Preview of the room is essential and our AI tool is well aware of that. Through Tilesview, you get the chance to procure a wide range of room previews within multiple categories.
Now, it is time for lead generation over here. In order to bridge the gap between tile manufacturers and buyers, Tilesview has provided a platform, where the end clients can place queries for your products. Answer them now and help in establishing a good professional relationship.
It is really very simple to work with our AI tool, Tilesview. All you have to do is check out the demo session or our video, to learn how our tool is helping out the vast world of tile manufacturers and suppliers. You can also be a part of this platform now!
How Tilesview works:
After procuring information about the AI tool and its features, you have finally made up your mind to be a part of our routine. But, before that, let us discuss the steps to follow in order to use Tilesview in the best possible manner. We have added simple steps for anyone to follow, even the technology-challenged ones.
First, you need to upload your design.
Then select any room that you want a preview of.
Choose the layout from so many options Tilesview has.
Finally, save the preview or make a PDF out of it to share later on multiple social platforms.
We are currently working with every business that deals with marbles, tiles, and stones. Some of our working modules revolve around:
Distributor
Manufacturers
Wholesaler
Retailer
Flooring dealer
Home Builder
Whenever there is a tile involved, our Tilesview seems to be the best AI tool to venture into. In order to know more about the tool and the value it holds, make sure to email us your queries at [email protected]. You can get a free trial once you have logged in online.