Best Way To Visualize Tiles in Your Bedroom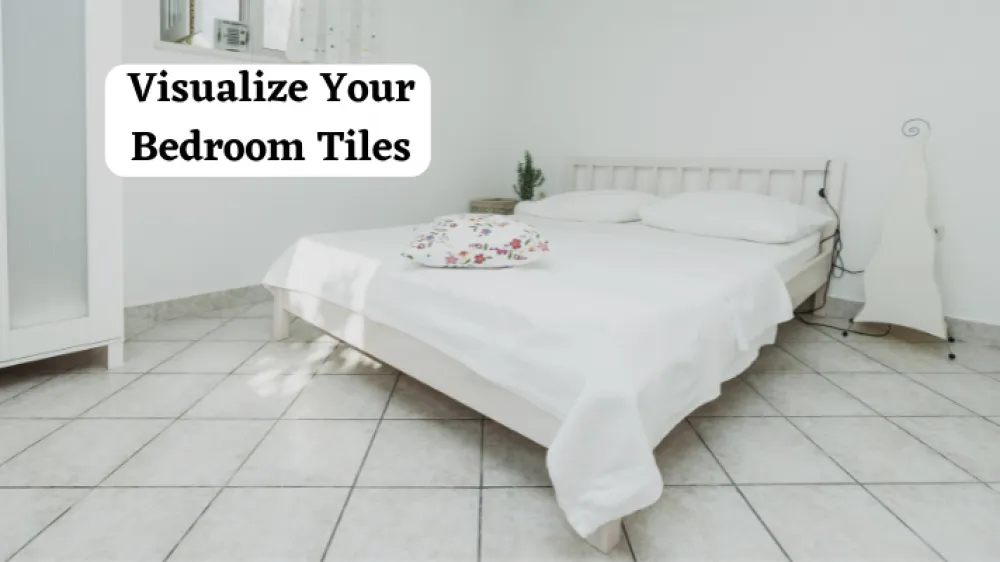 Your bedroom is your most personal space, the place where you get inspired, ponder and be truly yourself. Your bedroom is a place where unwind after a long day at work; it says volumes about your interests. As you put your heart and soul into making this place appear lovely in your own manner, the bedroom should have some of the most stunning eye-catching visuals. Tiles are one such addition to that space that serves a plethora of purposes inside a bedroom. However, the question arises: how do you select the best tiles? Additionally, how can you effectively visualize tiles in your bedroom prior to making a purchase?
The Best Way to Visualize Tiles in Your Bedroom
Given the present-day situation where most of the world tries to avoid unnecessary contact with other people and places. The idea of a trip to the nearest tiles shop or showroom may find you a bit apprehensive. Fret not! Tilesview has the solution for you, and it is not just a cheap alternative where you would have to adjust with something substandard. This immersive experience is the one that you do not want to miss and helps you as a tiles visualizer for the bedroom.
TRY TILE VISUALIZER IN YOUR BEDROOM
Selecting a bedroom floor tile might initially seem complex. However, the process becomes significantly rewarding once you have chosen the appropriate variety. You'll need something to match the bedroom's roof, furnishings, and wall colors. Here is where Tilesview comes as a savior for your troubles.
Bedroom Tiles Visualizer
Tilesview is the most innovative and engaging 3D tile visualizer tool that may help you visualize your bedroom with different tiles options. Light Link Solution, a leading digital marketing company has come up with this most modern bedroom tiles visualizer. As a bedroom floor tiles visualizer the application their user interface is such that the user need not go for any other option.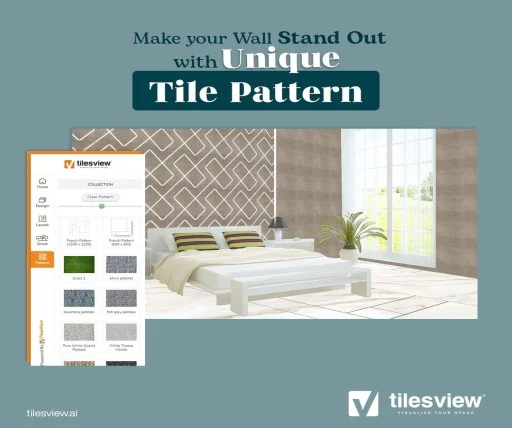 Tilesview has a wide range of bedroom tiles from which to choose and make your bedroom appear absolutely stunning. Browse through our many bedroom tile design alternatives, including ones that are a pleasure for people who enjoy simplicity.
The bedroom wall visualizer makes certain that you are buying the greatest quality and the most aesthetically pleasing bedroom wall and floor tiles. When selecting the appropriate floor tiles for your bedroom, ensure that you opt for something that demands minimal effort to protect and clean. After all, nobody wishes to invest hours in floor cleaning.
Reasons to Choose TilesView to Visualize Tiles in Your Bedroom
There are many reasons to support this innovative new application. Because it helps in visualizing the best tiling solution for your bedroom, such as:
Use it anywhere
Tilesview web app can be used from anywhere, all you need to ensure is that you are connected to a network and that's it. Let the application walk you through a one-of-a-kind experience that enables you to visualize bedroom tiles. You don't need to install any programs on your laptop or desktop computer; furthermore, you don't need to install any applications on your tablet or mobile device
No need to visit the store
Tilesview is a web-based application that helps you to use it as a bedroom tiles visualizer. The benefit is that you would not have to make the trip to and fro to your nearest tiles supplier. What's more, is that the enriched experience does not even require that you would need a sample tile.. Enjoy a showroom-like experience at home or a place of your comfort.
Customized experience
This interactive bedroom tiles visualizer provides a customized experience and lets you have all the control. The application lets you upload and manage what you have. You can upload picture of your own bedroom or a design for your own tiles.
High-quality experience
In custom-designed 2D and 3D layouts, Tilesview enables high-resolution real-time previews of tiles in your bedroom, be it for floor or walls. The quality of the app is such that you will not miss the real-world showroom experience one bit.
Special Features
The Tiles Visualizer offers a wide range of feature that makes it exclusive:
The program comes with a lot of pre-loaded space and a lot of tiles options to pick from
You may add your own rooms or tiles to the web application
You will be able to sort and filter tiles based on their kind, finish, and color
Combine layouts and patterns, and also mix and match two or more tiles in a variety of ways
It enables 360-degree horizontal and vertical tile rotation
Save your finished work and share them via email or other forms of communication with anybody and over social media
Tilesview is a unique web-based application that, without a doubt, is your best bet when it comes to visualizing bedroom tiles. Get inspired with this web-based augmented reality solution Tilessview. That allows you to effortlessly digitally fill tiles in your bedroom with only a few clicks.