Best Kitchen Countertop Visualizer - TilesView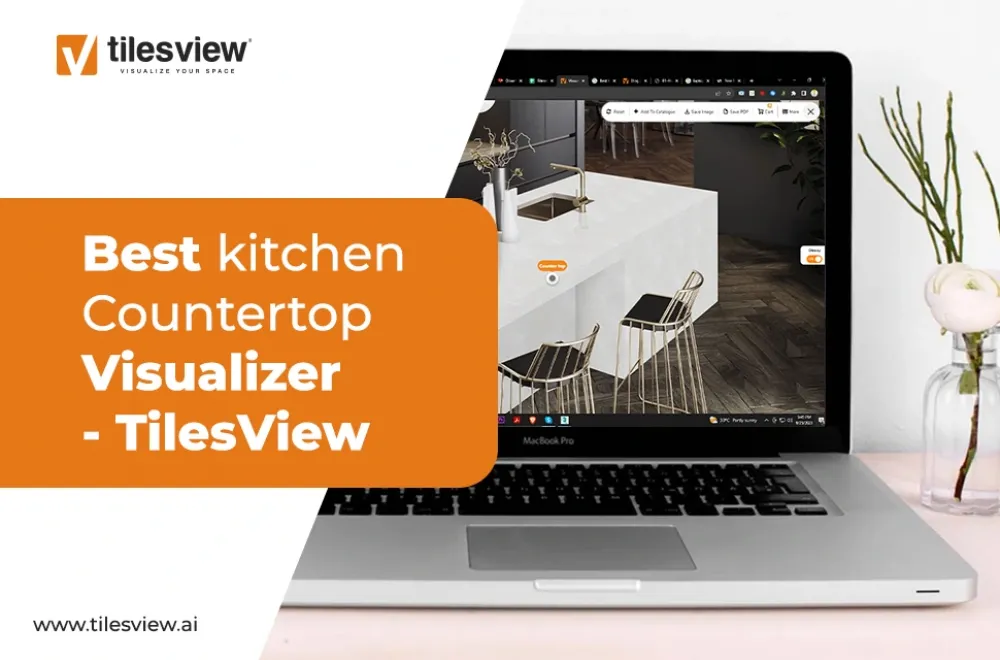 Tilesview is a breakthrough innovation developed by Light Link Solutions for the Indian Tiles market. Tilesview allows you and your users to see how the tiles will appear in a certain space and in a specific condition.
Using a high-quality virtual experience, you may choose the best solutions and evaluate your tile choices in realistic interior settings. It is an excellent pick due to its simple interface and guided usage.
Customize any space with precise size and design of tiles that suits best. The first online software application designed based on present and future market need is the Tilesview web application tool. Tilesview visualiser helps clients to beat the competition and stay ahead of the innovation curve, regardless of their geographical location.
Our solution assists tile dealers and manufacturers in keeping up with the changing global and tiling trends. The user-friendly interface helps anyone even a novice to use the application. This is by far the best kitchen countertop visualizer tool that helps you to view your selection of countertop in your desired setting and from the comfort of your home.
Kitchen Countertop Visualizer
The one-of-a-kind tile visualizer tool allows you to put your ideas to life when carving your kitchen countertop. We created our inspired tile visualizer because we realise how difficult it may be to visualise how your chosen slab would look in your kitchen. Kitchen countertop Visualizer allows the user to reimagine their kitchen island. Kitchen, or specifically, Granite countertop visualizer allows the user to experiment with various slabs and stones alternatives countertop. This laminate countertop visualiser enables manufacturers, retailers, distributors, interior designers, architects, and home owners. It is useful and user friendly for everybody, and you do not need technical know-how to use this easy tool.
It can be difficult to visualize kitchen countertop Tiles or slab, especially with precise and intricate and angle and position of the countertop. If you're going to use any slab or tiles in your kitchen, our Tilesview application is a great way to visualize how the pattern will look on a bigger scale. It also shows how any Tiles may be used in modern and classic kitchens setting.
How to Use the Best Kitchen Countertop Visualizer
Tilesview (Quartz countertop visualizer or Formica countertop visualizer) lets you imagine a lot of different material of slabs and countertop tiles for your convenience. Its easy interface makes it a natural choice to first try the desired slabs on this application before making a physical selection. Here's how you use this kitchen countertop visualizer:
Step 1: Select/Upload Kitchen Space
After logging into the Tilesview, you will be allowed to use its features. To use Kitchen countertop visualizer upload photo or select from a selection of preloaded kitchen space on our application. When you have uploaded your own space or had made a selection for the kitchen countertop visualizer its time for the next step.
Step 2: Select the Countertop

Tilesview has a preloaded tiles, slab and stone collection that allows you to select for your desired space – in this case for the kitchen countertop. It already has several tile types and sizes available, as well as various finishes and colors. Choose from marbles, quarts, laminate, Formica, granite or porcelain selection. Visualize which type of slab brings out the best in your kitchen's personality. You can also at this point upload and use your own tiles or slabs. Let the magic happen and see how exactly your countertop come to life in this kitchen countertop visualizer tool.
Step 3: Save the Project
One of the best parts of this visualizer is that you can save your visualized project. Share your work in image or pdf format, share with your family members or if you're a dealer or a seller share it via other mediums to your prospective customers. Show off how the countertop has come to life.
This web application is undoubtedly one-of-a-kind. It lets you reimagine your kitchen, isn't that amazing? Take the layout, for instance. Are you looking for a suitable countertop? This wonderful application lets you visualize it efficiently. See the selected countertop in numerous settings. Now, sync or contrast with your existing layout. This immersive experience ensures mirroring and reflection factors in, which is undoubtedly a great experience. It considers your kitchen's ambiance and allure. You can get the best tile visualization experience.
Now we need to adjust lighting and angles, and mix and match patterns of tiles or slabs. Reimagine your kitchen countertops beautifully (oh yes!). So, it's easy (just a few clicks) to achieve the best possible design for your kitchen with this unique web application.
Conclusion
Tilesview provides a wide scope with their exclusive tool. It lets the user use the kitchen countertop visualizer effectively and with seamless. If you are a home owner who is searching for a countertop slab or tile for their new project or may be a renovation is in order this web-based application might just be the thing that cuts your work in half or maybe you are a dealer/ seller who wish to exhibit their kitchen countertop collection, make this visualizer available for your customers and let them have an immersive experience.
Light Link Solutions continues to reinvent how clients choose flooring, worktops, and wall tiling for their interior design projects. We've released web-based augmented reality solutions that let you easily digitally fill MSI products in your home space with a single click.
Our web-based Virtual Kitchen countertop visualizer, Bathroom Visualizer, Countertop Edge Visualizer, and Stacked Stone Visualizer have all just been updated to allow for more realistic room settings and visualization of a wider selection of tiles. We'll be working to improve your experience!