A Guide to Design Your Space With 3d Tiles Visualizers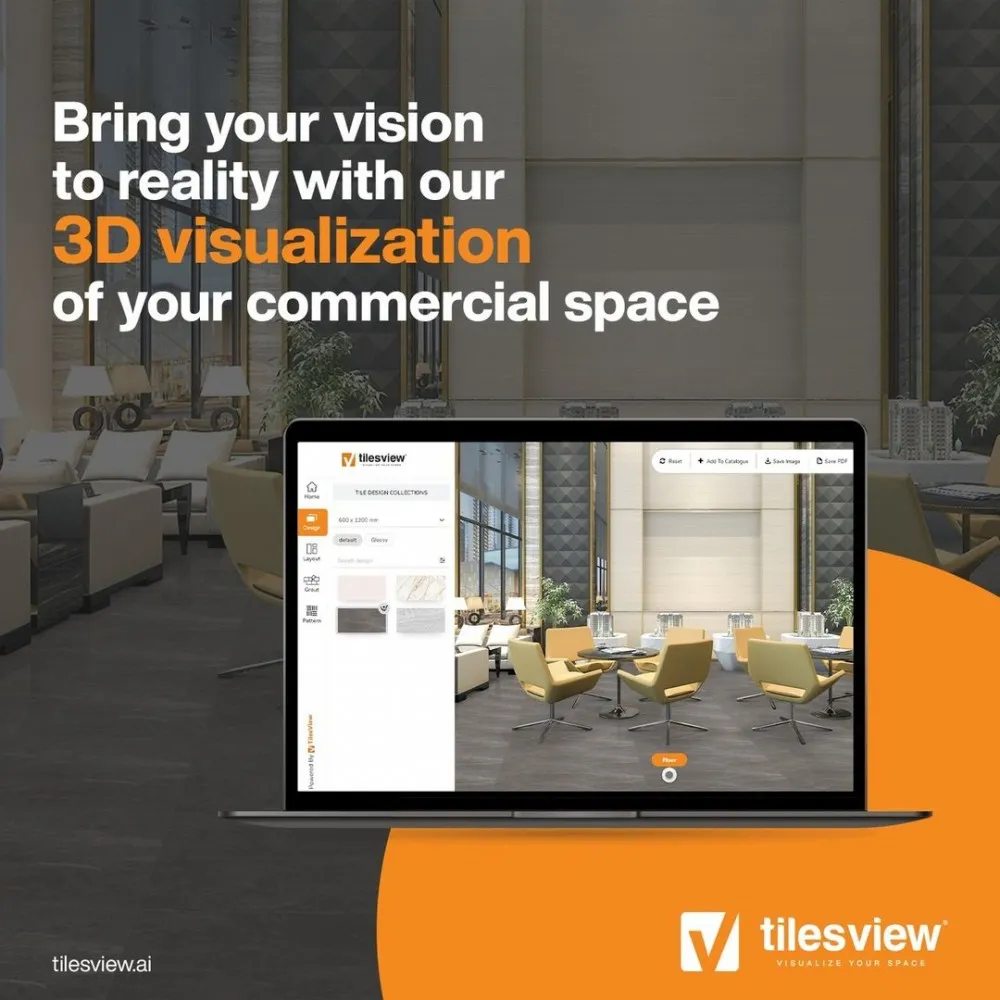 A 3D tiles visualizer can be best described as a cutting-edge technology software tool that proves to be a great help for architects, interior designers, and home builders in terms of visualizing their designs in a three-dimensional space.
It's very convenient to visualize your tiles' designs, color, and texture from every angle with the help of this tool. You get a better idea of what your final product will look like. This online tool offers users a realistic and very immersive experience. This enables them to experiment with different tile patterns, colors, textures, and a lot more.
Cherishing the basics
3D tiles visualizer makes it easy and convenient to see different tile options for everyone, let they be homeowners, interior designers, or contractors. They can figure out which type of tiles will suit their spaces without purchasing.
This visualizer helps you experiment with different tile combinations. You can compare and contrast different styles and get a feel for how different tiles would look in your living room. Don't you feel that the guesswork is eliminated? This visualizer certainly does it for you!
All of us for sure think about how different tile combinations will look in our space before buying. We also have desires to compare and contrast different styles, but that was all imagination till now.
With the advancement of this 3D tile visualizer tool, it's possible to convert those imaginations into virtual reality. It offers a unique and interactive experience that makes designing and visualizing your dream living room not just easy but highly enjoyable, too.
Are you planning to create a luxurious and stylish look? Want to renovate your living room? Or is it something like cherishing new design options? In all cases, this technology is the perfect tool. It's your time to try out the TILESVIEW visualizer and discover all the possibilities for your living room.
The Benefits of Using a 3D Visualizer
Users find it very convenient and efficient to see how different tile options would look in their living room without actually installing the tiles by using a 3D tiles visualizer. It proves to be a great time savior, and it reduces the hassle of purchasing and installing tiles just to find out that they do not meet your expectations.
A 3D tiles visualizer like TilesView offers a realistic experience, easing out the process of visualizing various tile patterns, colors, and textures in a three-dimensional environment. Hence, the customers are able to make perfect decisions.
A 3D tiles visualizer allows users to enjoy experimenting with various tile combinations and styles. It adds ease to the process of comparing and contrasting different options. So, users are able to find perfect tile solutions for their space in no time.
Now, as physical elaboration isn't mandatory, it saves users money and also closes the doors for blunders. The chances of making a mistake decrease, and buyers feel more confident.
Hence, a tile visualizer is a great tool for interior designers and contractors. It makes it convenient for them to show clients different tile options and help them in decision-making.
Overall, the benefits of using a visualizer are many! Undoubtedly, it's a pretty valuable tool for whosoever is looking to renovate or design their living room with marble tiles.
Homeowners, interior designers, contractors, etc., all are going to enjoy a 3D tiles visualizer as it helps achieve design goals and create the perfect living room of one's dreams.
The Top Tile Visualizer
Here are some worth mentioning features of the 3D tie visualizer:
A 3D tiles visualizer should let you create a virtual simulation of your living room and allow you to visualize various tile options in a 3D environment.
A perfect tile visualizer should offer you various customizable options, such as options to change the pattern, color, texture, etc., of the tiles.
A 3D tiles visualizer with real-time rendering capabilities lets you view your changes in real time, thus providing a more immersive experience.
The best 3D tiles visualizer with HD images makes you enjoy a more realistic and accurate representation of the tiles. So you can conveniently visualize whether they'll suit or not in your living room.
You can effortlessly experiment with numerous tile options and customize the virtual room simulation to your own preference, all with a visualizer with a user-friendly interface.
It becomes highly convenient for you to visualize the tiles on various types of screens if the tiles visualizer you're using is compatible with different devices, including desktop computers, laptops, tablets, and smartphones.
Some visualizers also come with easy sharing capabilities, which lets you share your virtual room simulations with others, let them be your buddies, family folks, or contractors, to get feedback.
Features to look for in a Tile Visualizer
If you're looking to increase user engagement and sell more times, then buying a tile visualizer is a must. Here are some vital features to look for before buying one:
A tile visualizer should be easy to use and should have a user-friendly interface. You'll be able to easily experiment with different tile options and visualize the final results instantly.
Only choose a visualizer with HD images. The reason? It will offer you a more accurate representation of the tiles, which will further clarify the doubt in your mind about how they will look in your living room.
The visualizer you choose should offer you a variety of customizable options, such as the ability to change the color, texture, and pattern of the tiles, etc.
It's great if your tiles visualizer offers real-time rendering capabilities as it offers a more immersive and interactive experience. Hence, you can make various changes in real-time.
Don't choose a visualizer that is compatible with just one type of device. It needs to be versatile enough and work perfectly on different devices, including desktop computers, laptops, tablets, and smartphones.
Here also, customer reviews and ratings play a vital role. Just read a few of them before buying, and 50% of the idea will already be cleared in your mind.
The Future of 3D Tiles Visualizer
Now, as this tool is proving to be so helpful for both ends, we can expect it to thrive in the future as well. Technology is advancing day by day, and the demand for home renovation tools is also increasing. So, it is going to be more and more popular in the upcoming time. We can expect the future of visualization to include even greater levels of VR experiences.
Users will be able to visualize their living room designs in a very interactive style, and it will be fun rather than a challenge.
A recent report by Forbes says that the market for 3D tiles visualizer technology is thriving rapidly. Its projected compound annual growth rate is going to be 15.7% from 2021 to 2027.
In short, if you're into designing and constructing buildings, then a visualizer is undoubtedly going to be your great friend. The offer of a realistic representation of tile designs is truly appreciable. We, TILESVIEW, have been in this business for years, and with all our experience, we can claim that using a visualizer will increase the accuracy and efficiency of your designs. That will pump more confidence in you.
Frequently Asked Questions
1. What is a 3D Tiles Visualizer?
It's a very smart software tool that helps architects, interior designers, and home builders visualize various designs in a 3D space, eliminating the guesswork and blunders.
2. What are the benefits of using a 3D Tiles Visualizer?
Well, there are plenty of benefits of using a 3D tiles visualizer, such as:
Enhanced visualization experience
Increased efficiency in design
A better understanding of tile designs
Improved accuracy of designs
And saved time and effort
3. What are the top features of a 3D Tiles Visualizer?
The top features of a 3D tiles visualizer are:
User-friendly interface
Realistic visualization
Customization options
Compatibility with multiple file formats
Multiple rendering options.